AGENDA DISCUSSION POINTS
1. Previous meeting minutes
CoDA Intergroup Meeting 12/8/2020: Minutes
Time: 18:30
Location: Zoom
Present: Úna from Galway Wed, Helen H from Foxford, Mary L from Lisnaskea, Galway Tom from Galway Tue, Eileen L from Galway Sun, Patricia M from Sligo, Phil M from Cork, Laura from Galway Fri, Lisa from Galway, Tom from Westport, Denise from Sligo.
Tradition Two: For our group purpose there is but one ultimate authority: a loving Higher Power as expressed to our group conscience. Our leaders are but trusted servants; they do not govern.
Apologies: Mary K from Foxford had to attend a family funeral
Previous meeting minutes: read and approved. Eileen proposed, Helen H seconds. Úna notes that she has to correct meeting list at beginning of minutes. (Done)
Meetings currently covered by Connacht-Ulster Intergroup:
Galway Salthill Church Sunday 11am
Galway Ozanam House Tue 1pm
Galway Salthill Church Wed 11am
Galway Zoom Fri 7:30pm
Mayo Hope House Thu 6:30pm
Mayo Westport Family & Community Resource Centre Mon 8pm
Fermanagh Oak Healthy Living Center Mon 7:30pm
Sligo Zoom 6pm
1. Meeting reports
| | |
| --- | --- |
| Meeting Day/Time: | Salthill Church Sunday 11am |
| Attendance: | 10-12 attending on Zoom |
| Service Positions: | All positions filled. |
| Balance: | Eileen L gave some money to meeting treasurer just before lockdown. Treasurer used that money to buy Zoom subscription. Ergo meeting balance the same. |
| Rent: | At previous grp conscience the meeting decided to be on Zoom til further notice. |
| Literature: | |
| | |
| --- | --- |
| Meeting Day/Time: | Ozanam House Tue 1pm |
| Attendance: | Still suspended. Tom notes that most of these members seem to attend Galway Wed 11am on Zoom now. |
| Service Positions: | |
| Balance: | |
| Rent: | |
| Literature: | |
| | |
| --- | --- |
| Meeting Day/Time: | Salthill Church Wed 11am |
| Attendance: | 8 and upward weekly. |
| Service Positions: | Today this meeting got a new secretary. Our treasurer's period is up – he's happy to continue holding the money until someone else steps up to the position. |
| Balance: | In March it was €192.44 plus €20 for insurance. |
| Rent: | At second-last group conscience, we decided to share our Zoom subscription with Friday group. At last group conscience we decided to also share our subscription with Sunday group. That means each group now has to contribute just €7 per month rather than €15 for Zoom subscription. Points raised in discussion were: – it's an efficient use of resources, particularly when groups have no way of accepting donations – does it compromise autonomy? – Tradition 4: "As much as we value autonomy, we value unity more. In this Tradition, we acknowledge we are part of a greater whole – the Fellowship of Co-Dependents Anonymous. Any decision we make as a group should be centered in our common welfare." – Wednesday group sharing their subscription may compromise autonomy of other groups because if the Wednesday group decides to stop their subscription / alter it in some way, it will then have a knock-on impact on the other CoDA groups using it – having one Zoom subscription for 3 meetings is not an ideal answer, but it's a reasonable response considering the current unusual situation – there may be a slight difficulty for treasurers to transfer funds to Wednesday grp – other 12-step fellowships share Zoom subscriptions Voted that Wednesday group share their Zoom monthly subscription with Sunday meeting in return for the subscription cost being equally divided between all 3 meetings – Wed, Fri, and Sun. |
| Literature: | Eileen G our lit sec. was provisionally supposed to do an order but that's on hold now. |
| | |
| --- | --- |
| Meeting Day/Time: | Zoom Fri :7:30pm |
| Attendance: | Attendance 8-15 weekly. |
| Service Positions: | All positions filled. |
| Balance: | Unknown. |
| Rent: | Group paid Pádraic, Wed treasurer, their contribution to Zoom subscription. At grp conscience, the meeting decided to be on Zoom until further notice. |
| Literature: | |
| | |
| --- | --- |
| Meeting Day/Time: | Hope House Thu 6:30pm |
| Attendance: | 8-12 per week. |
| Service Positions: | All positions filled. |
| Balance: | Balance €558, but have some rent to come out of that and Zoom subscription too. All positions filled. |
| Rent: | Meeting continuing on Zoom for the moment. Hope House said to contact them in Sept. RE availability for physical meetings. |
| Literature: | |
| | |
| --- | --- |
| Meeting Day/Time: | Westport Family & Community Resource Centre Mon 12:30pm |
| Attendance: | 5-8 ppl attending. Make-up of group has changed significantly since its origins as a physical meeting; it's gotten quite international. The meeting is happy for link to be given out to all, and even put up on website, but the link changes every few weeks. Once they figure out how to have a constant meeting ID and password they'll be in touch to make it publicly available. Úna offers her help. |
| Service Positions: | All positions filled, but Tom will be stepping down as GSR and sec soon. |
| Balance: | €113 which Zoom subscription will have to come out of. |
| Rent: | Meeting is still on Zoom; the venue will not open for meetings until next year at least. Current feeling in group is everyone is happier with it being on Zoom than physical. Tom thinks that meeting will continue on Zoom regardless of venue availability in future – it's very convenient for members, and facilitates international members. Status quo is that meeting will be on Zoom at least until November. |
| Literature: | |
| | |
| --- | --- |
| Meeting Day/Time: | Oak Healthy Living Center Mon 7:30pm |
| Attendance: | 7-12 attendees weekly. The group is open to previous attendees plus people group members personally invite in. |
| Service Positions: | All positions filled. |
| Balance: | Balance is same as pre-lockdown. Mary wants to track was €50 contribution given to Intergroup – Lisa says she doesn't have a record of it. Mary says she'll try to make that happen. |
| Rent: | Meeting is still on Zoom. Group is not paying a subscription, they just restart their meeting after 40 minutes as they are hoping from week to week that they'll get back in to physical venue. |
| Literature: | |
| | |
| --- | --- |
| Meeting Day/Time: | Sligo Zoom Tue 6pm |
| Attendance: | 4-7 weekly. Members have never met except on Zoom. Members are from all over the country. |
| Service Positions: | Denise is tech host and sec. They have no treasurer because they're not taking in any money. |
| Balance: | Meeting is not taking money in due to Covid restrictions. |
| Rent: | Will discuss public information level at grp conscience and then decide if they want to put their link on website. |
| Literature: | |
| | |
| --- | --- |
| Meeting Day/Time: | Cork Tue 8pm |
| Attendance: | 12-15 weekly. Holding its own; v healthy. |
| Service Positions: | |
| Balance: | €165.68. Cork CoDA has a bank account, but they can't get into it because of a problem transferring signatories. But they're working on it. |
| Rent: | Cork venue won't be available until next year. |
| Literature: | |
| | |
| --- | --- |
| Meeting Day/Time: | Cork Sat 3pm |
| Attendance: | 5-8 weekly. |
| Service Positions: | Struggling; doesn't have a constant secretary at the moment or a GSR. |
| Balance: | |
| Rent: | Cork venue won't be available until next year. |
| Literature: | |
2. Treasurer's report
Balance is €604.25. We were originally going to apply to get a Post Office account. However, during application process we found out that PO accounts don't give an IBAN or BIC and you can't lodge into them without the accompanying physical PO book. Because of current restrictions it's vital we're able to accept electronic payment, so Úna emailed everyone with this info and the options – account with PO or one of 3 Credit Unions (Credit Union group accounts have an IBAN and BIC). Everyone voted electronically to apply for an account with one of 3 Credit Unions. Lisa and Laura, signatories, decided was Mainguard St was the best option. Lisa has set up an appointment with the Credit Union for 3 people, including 2 signatories, on Sat 5th September to set up a group account.
3. Next meeting date: Nov 4th Wed 6:30pm, Zoom
4. National All-Ireland Virtual Meeting Day
Eileen L proposes, Lisa seconds. Laura proposes a few meetings; topics of gratitude, sponsorship. Lisa was at a 'Meeting Day' where there were a few speakers one after the other. Tom proposes a subcommittee; Phil, Laura, Mary L form a subcommittee. Úna proposes that Wed group's Zoom account can be used for the All-Ireland meeting. (At this point Laura and Eileen have to go, so they can't contribute to this discussion – Laura and Eileen, if ye have a problem with that idea, just let Úna know via email). Idea for date: one meeting before Christmas, one after. Subcommittee to report with draft meeting schedule to next Intergroup meeting in November.
5. Zoom versus physical meetings
Group updates RE physical vs virtual form have been inserted into the meeting reports above. Mary L shares that in UK, they considered mixing physical and virtual meetings, and decided against it.
6. Meeting formats
Mary L contacted Arizona CoDA and got clarity RE meeting docs required for every meeting. They are: 12 traditions, 12 steps, the preamble, and welcome.
It's noted that now that all Irish meetings are virtual, it's in the interest of national consistency, plus international consistency, as well as recovery that all 4 of these docs are read at every meeting. Úna says she will check website to make sure this is noted under 'new meeting' information. (Update: Úna has updated the "Resources" page on the website: www.codaireland.com/useful-links )
AOB:
Mary L is hoping to attend International Service Conference on Aug 24th as a listener. (It's at 4:30pm GMT which is quite convenient.)
There's a 'Sponsor and Sponsee" workshop on August 15th run by CoDA UK
To save time at Intergroup meetings, Úna suggests that GSRs give meeting reports electronically in advance of Intergroup meetings. 6 out of 8 attendees vote, this is passed.
---
2. Read reports from all meetings: https://docs.google.com/document/d/1kz5TaL7oIBVEj1jesIzpsIqG9wQJ7A7gGLb5waGG8Js/edit?usp=sharing
3. Treasurer's Report
4. Intergroup and the Galway Zoom account
– Proposal: Galway Wednesday meeting gives their Zoom account (currently used by Galway Wed, Sun, & Fri meetings) to Connacht-Ulster Intergroup.
DISCUSSION POINTS
– it's very difficult for a group to get an account (it took 3 years of concentrated effort for Connacht-Ulster to get their account).
– the only way to collect 7th tradition electronically in the region at the moment is via the Connacht-Ulster intergroup account.
– therefore the only financially sustainable option we can think of to run the Zoom account is to have Connacht-Ulster intergroup, who collect the 7th tradition electronically, to own the Zoom account and pay for it monthly.
– if the Connacht-Ulster intergroup own the Zoom account it will enable all groups in Connacht-Ulster region to use the Zoom account.
Insurance
Proposal: not to buy insurance until physical meetings restart.
– a few insurance providers are offering money back and other goodwill gestures to their customers; we wanted to find out if by any chance our insurance had been paused when lockdown happened. They said no, they didn't suspend it because we didn't ask. The best offer they could make was to sell us our 2020 policy for the minimum charge of €275, but they would only give us this special deal if we buy it by November 31st. Last year the insurance premium was €350; Mary L has calculated that since we won't be doing physical until December at the earliest, it's financially not worth buying this 'deal'. Massive thanks to Pádraic for setting up our policy, and Mary L for getting an update on the policy.
Cork joining Intergroup
– Proposal: Cork join Connacht-Ulster intergroup, making it Connacht-Ulster-Munster intergroup.
– There are currently around 16 meetings in Ireland: 4/5 in Galway, 2 in Mayo, 1 in Sligo, 1 in Fermanagh; plus 2 in Cork, 5 in Dublin, & 1 phone meeting.)
– Connacht-Ulster represents around 9 meetings at the moment; with Cork added, it would be 11 meetings.
– this is the definition of 'intergroup' in CoDA:
"An Intergroup can be made up of six to ten, or more committed CoDA members from various meeting groups. … Groups join together to form 'Intergroups', to accomplish things that a single group cannot, such as maintaining up-to-date meetings lists and sponsoring events."[1]
… there's no official guidance beyond 'various meeting groups'or 'local' as to how many meetings / what geographical area an intergroup should cover.
The options for structuring CoDA in Ireland are: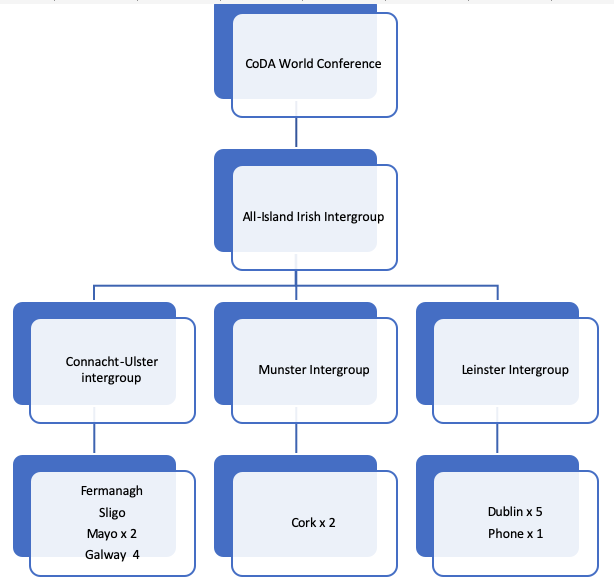 OR….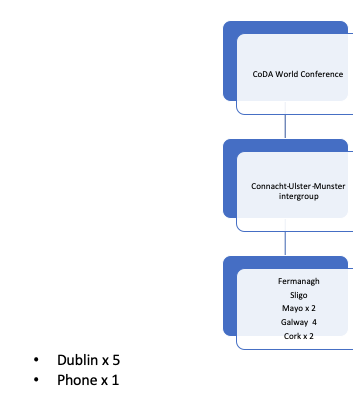 – Ireland having just one intergroup does not stop us sending delegates to CoDA world conference in future: "An Intergroup may also serve as a Voting Entity if decided by group conscience."[3] and "An Intergroup may also serve as a Voting Entity [at CoDA World Conference] … if it is the only Intergroup within the Voting Entity or if there are two Intergroups and they are too small to form a separate Voting Entity altogether."[4]
– intergroup structures in other English-speaking regions:
USA: Some US states seem to have just 1 intergroup; other US states have multiple intergroups. Amount of meetings covered range from Northern Ohio intergroup, which covers 13 meetings, to Illinois intergroup, which covers 43 meetings.
UK: 2 intergroups. Northern intergroup – North of Birmingham, Scotland, Wales, Northern Ireland – covers 14 – 38 meetings, depending who you talk to.
London & South-East intergroup: covers around 60 meetings.
– Advice from UK Northern intergroup on optimal size for intergroup:
1. see where the will is to do service, and follow that
2. Consider Tradition 1: "Our common welfare should come first; personal recovery depends upon CoDA unity."
3. Consider Tradition 5: "Each group has but one primary purpose – to carry its message to other codependents who still suffer."
4. if Irish Connacht-Ulster-Munster intergroup were to get too big, it could always split into 2 separate intergroups (guidance on how to do this in the FSM[2]).
Cork joining intergroup:
– enlarges pool of members to do service at intergroup level
– our service gains the expertise of more perspectives
– makes the website closer to national in spirit, as well as name
– might facilitate 7th tradition collection, & Zoom account payment, for meetings and therefore retain / increase the amount of meetings in Ireland
– may make the job of buying insurance more efficient (i.e. 1 committee buys policy for 3 regions, not 2 committees buying policy for 3 regions)
– may dilute the Connacht- Ulster's focus on growing membership of CoDA in their own region
All-Ireland Meeting Day
– Proposal: we decided on wording and amount for suggested / recommended donation. Options:
a) Suggested donation €10
b) Recommended donation €10
c) no suggested donation, just give PayPal address
– we can send our CoDA virtual meeting day details to communications@codauk.org so they'll put it up on their website too
Intergroup – voting rights
Proposal: intergroup committee members have a right to vote.
– Until now at intergroup only the GSRs had a vote – not the intergroup chair, treasurer, or secretary.
– In accordance with the CoDA FSM 2019, GSRs and Committee members have a right to vote.
– Ideally, the intergroup comittee would consist of GSRs and Service members who are not GSRs.
Intergroup – service
– Info: intergroup committee elections happening first meeting in 2021.
These service roles are rewarding, gratifying, and spiritually uplifting, providing exposure to the enormous experience of the group conscience at the CoDA level. Recommended term at intergroup: 2 years.
Roles available:
Chair: facilitates 4 meetings a year and sets the agenda.
Vice Chair: takes over the Chair's responsibilities/duties in the absence of the Chair.
Treasurer: takes in 7th tradition, pays all bills, keeps records of all transactions. In practice – pays insurance once a year; pays website once a year; takes 7th tradition cash donations and lodges them.
Secretary: has access to intergroup email. Keeps an updated contact list of GSRs. Contacts all GSRs & members 4 times a year to tell them there's an upcoming intergroup meeting; invites agenda items; writes agenda and sends it out; organises intergroup meeting venue whether physically / Zoom. Writes the minutes of the quarterly intergroup meeting (approx. 1000 words) and emails them to to all after the meeting. Communicates as necessary with CoDA members.
Webmaster: updates www.codaireland.com as necessary. This role could be subdivided to make it more manageable.
Group Service Representative: attends intergroup meeting 4 times a year. Carries messages from their group conscience to intergroup, casts their vote at intergroup meetings, reports back to their meeting on outcomes. Notifies their meeting of any local or CoDA updates.
Intergroup – schedule next meeting
– Proposal: Wednesday 3rd of February 2021 18:30
Communications
– Proposal: we establish a mailing list. We need a mass communications alternative to WhatsApp because (a) it's not anonymous (b) some people don't have that app (c) WhatsApp groups are not regulated so communication within them may go outside the traditions (thanks to Westport)
– Proposal: redesign website.
To create a webpage, e.g. www.codaireland.com/meetings with a list of restricted meetings. This page will have a barrier to entry – a recaptcha is recommended. (A password is too weak, apparently.) The webpage address can be given to people at all meetings. Also it can be given out from the website: if so, which level of interaction should be required from newcomers?
a) the page is a tab on the site, newcomer just inserts the recaptcha to access list
b) the newcomer sends an email and is immediately sent an email with the address www.codaireland.com/meetings
c) the newcomer has to sign up to a mailing list (automated 2-factor authentication). Upon authentication, the first email from the mailing list gives the address www.codaireland.com/meetings
2. we put BIC & IBAN on website
3. add 'literature' tab, including free downloads & all Irish meeting formats
4. amend newcomers page to include links to beginners meetings and all other meetings, literature, Whatsapp groups for steps etc., key materials (like the characteristics, affirmations), links to buy / download literature (thanks to Aisling & Doris for this).
5. To establish mailing list which sends 'room open now' service on gmail. (Optimally this would be a phone text broadcast service, but I don't know how to do that.)
6. how to negotiate a method to join Dublin Skype Whatsapp group which is automated but has a barrier to entry so no spammers / trolls can get onto it?
7. page with guidelines for WhatsApp groups – clear outlines as to content, membership, & guide as to how to change name?
7th Tradition
Proposal: all meetings put BIC, IBAN (& PayPal address once we get it) in the chat for 7th tradition.
12. AOB
– how about a training session for CoDA / 12 step members to learn how to be a tech host? (from Denise)
13. CoDA.org and CoDA UK mailing list update
– suggestion to make a donation to your local venue at Christmas so that it's still in existence when restrictions lift!
– looking for stories from ethnic, minority, lgbtq people of coming into coda and recovering. 900-4000 (3-10/12 pages); get them in by end of December (v latest January). It doesn't have to be perfect, they'll be edited before printing – they just want your story. Email to gilliancoda (translate <ag> from Gaeilge) gmail.com or nscliteraturesecretary (translate <ag> from Gaeilge) codauk.org
– excerpt from FSM that might be inspiring to add to meeting templates when advertising service positions: "The job is rewarding, gratifying, and spiritually uplifting, providing exposure to the enormous experience of the group conscience at the CoDA level."
– CoDA.org needs money; people aren't donating online like they used to in person. They have a $200,000 prudent reserve and a $200,000 cashflow. However out of this they have to support CoRE, the literature arm, all the printing; and had to give out monies for convention that didn't happen this year (had to happen virtually).
– 14th November CoDA UK having a sponsorship workshop 1-4:30; looking for people to talk for 10 minutes, as a sponsor or sponsee. Just normal people – 'if I can do it, you can too!'
– CoDA UK has a WhatsApp group for people doing the steps, also one for step groups: www.codauk.org/member-networks
– one meeting has reduced their prudent reserve to 6 months of Zoom, not rent, which has freed up some money
– on PayPal, you can still transfer into a business account as a 'family or friend' you just have to scroll down; that way you can avoid fees
– CoDA international convention: https://www.eventbrite.com/e/virtual-2020-international-coda-convention-november-21-2020-registration-126734723971 (on the same day as our convention, but starts 15:00 GMT)
– 'The 30 questions' are apparently a great tool and available to download for free
---
[1] https://coda.org/outreach/connecting-members/voting-entity-intergroup-support/
[2] Voting Entity Division Process: The By-Laws (Section 2) authorizes a VE to sub-divide; explains the logic and assigns IMC to oversee and approve the division. It also gives some guidance for the VE and IMC. After the division, both VEs will have two delegates. The Process of Dividing a VE may arise for any of many reasons. The IMC recommends the following issues and process be considered. 1. Make sure a division will solve some problem or issue with representation of the membership. 2. Consider geographical boundaries. 3. Consider division by Language. 4. Consider city, county, parish, state boundaries. 5. The division should be agreed upon by both new VE's. 6. All meetings from the current VE should be included in one of the new VE's. https://coda.org/default/assets/File/By%20Laws%202012-approved.pdf
[3] https://coda.org/outreach/connecting-members/voting-entity-intergroup-support/
[4] https://coda.org/default/assets/File/IMC/Guidelines%20for%20Development%20for%20VE.pdf